Target Audience
This continuing educational conference is intended for practicing surgical and wound care health care professionals….in particular, the podiatric residency education community consisting of Residency Directors, Attending Physicians at hospitals that host podiatric residency programs, and Podiatric Residents.
Learning Objectives
Identify and demonstrate the epidemiology and pathophysiology of lower extremity disease.
Demonstrate the basic established principles of care for skin and nail disease.
Identify different wound care techniques and technologies as well as their importance in managing chronic lower extremity wounds.
Recognize the various presentations of infections of the skin, nail, soft tissue, and bone and demonstrate their appropriate management based on current literature.
Identify the various orthopedic foot deformities and dysfunctions that present in the lower extremity and demonstrate particular non-surgical and surgical interventions to relieve symptoms and improve function.
Identify and demonstrate complex diabetic and non-diabetic foot and ankle deformities and be able to reposition and stabilize these deformities with various internal and external fixation techniques and technologies.
Critically evaluate and comprehend evidence-based outcome data for the treatment of disorders of the diabetic and non-diabetic lower limb.
Estimated for 16 CME/CECH Credit Hours and 2 MOC Points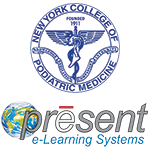 This activity has been planned and implemented in accordance with the standards and requirements for approval of providers of continuing education in podiatric medicine through a joint providership agreement between the New York College of Podiatric Medicine and PRESENT e-Learning Systems.
New York College of Podiatric Medicine has estimated this activity for a maximum of 16 continuing education contact hours.

The American Board of Podiatric Medicine (ABPM) has designated this conference for 2 hours of Maintenance of Certification (MOC) Category 2 Points.
Disclosures
It is the policy of PRESENT e-Learning Systems that the Faculty and Staff of our education programs with the potential to influence content, will disclose real or apparent conflicts of interest relating to the topics of our educational activities. Additionally, disclosure will be made of any intended discussions of off label/unapproved uses of drugs or devices. Speakers/authors are required to prepare fair and balanced presentations that are objective and are based on scientific fact. PRESENT e-Learning Systems has no financial interests to disclose.
Disclaimers
The information presented at this CME program represents the views and opinions of the individual presenters, and does not constitute the opinion or endorsement of, or promotion by, PRESENT e-Learning Systems or its affiliates. Reasonable efforts have been taken intending for educational subject matter to be presented in a balanced, unbiased fashion and in compliance with regulatory requirements. However, each program attendee must always use his/her own personal and professional judgment when considering further application of this information, particularly as it may relate to patient diagnostic or treatment.
CME Credit Instructions
On Monday, August 15, 2022 you will receive an email with instructions to complete the online CECH/CME Evaluation Survey. Once you complete the Online Evaluation Survey, (you will not receive a confirmation of completion), you will receive your certificate via email immediately. You MUST complete the Online Evaluation Survey by September 11, 2022.
If you have any questions, please feel free to contact Daryl at via email, [email protected] or at 201-723-1066.